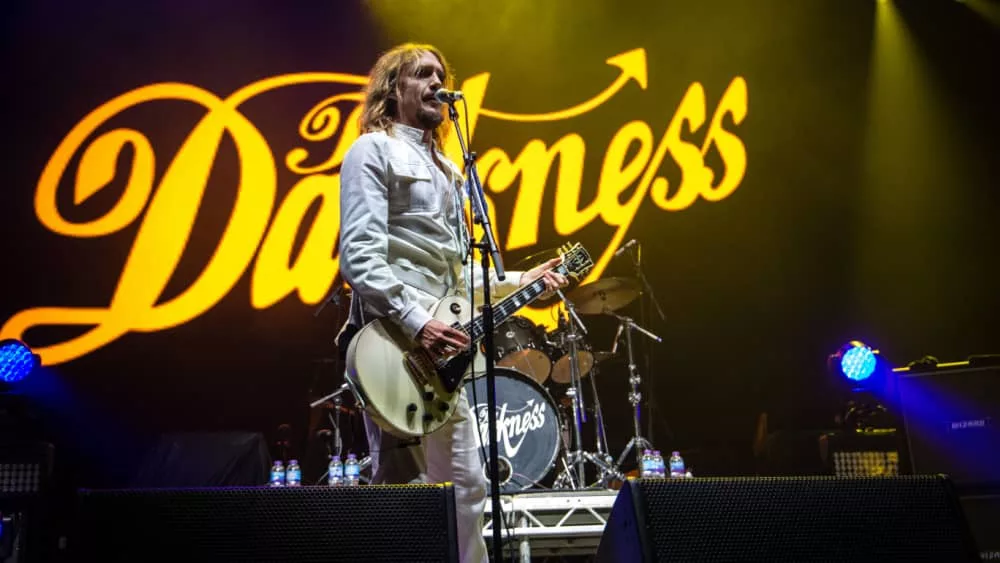 The Darkness is celebrating the release of their album 'Permission to Land' 20 years ago by bringing their 20th anniversary tour to North America. The band will also celebrate the album's 20th anniversary by releasing an expanded, deluxe version of Permission to Land this year.
The British rock band announced U.S. dates for the tour on social media: "


PTL20 USA Tour 2023 Announcement


That's right, people of the USA we are coming back to celebrate the 20th Anniversary of Permission to Land! We will be playing Permission to Land in full along with of some of your other favourites. It's going to be a night of rock you will not want to miss. Come and celebrate with us! Tickets go on sale Friday June 9th at 10am local time here: https://www.thedarknesslive.com/tour-dates/ or click the link in our bio! Tell us which gig you're going to come to!

"
Released on July 7, 2003, Permission to Land sold more than a million copies and went to No. 1 in the U.K. Frontman Justin Hawkins said in a statement: "When Permission to Land landed, twenty short years ago, we were bathed in shock and awe. As if by magic, Rock wasn't dead! Fun wasn't banned! And Spandex was almost acceptable again…Well, guess what? Twenty years on, the same rules apply. So please to squeeze yourselves into those inappropriate leggings, back-comb your mullet, splash on a big handful of attitude, and come celebrate with us! We promise everything and we deliver, every time. Bring on the next twenty!"
The tour kicks-off on October 3 in San Francisco, California, heading through major cities in the U.S. before concluding Oct. 22 in Washington, D.C. The Darkness previously announced European dates, which kick off in November. Each concert will see The Darkness perform Permission to Land in its entirety, along with other fan-favorite tracks. For tickets, head to www.thedarknesslive.com.
Editorial credit: ChrisJamesRyanPhotography / Shutterstock.com