Run Like A Girl Memorial 5K
October 15, 2020 @ 8:00 am

-

October 31, 2020 @ 5:00 pm

|

$35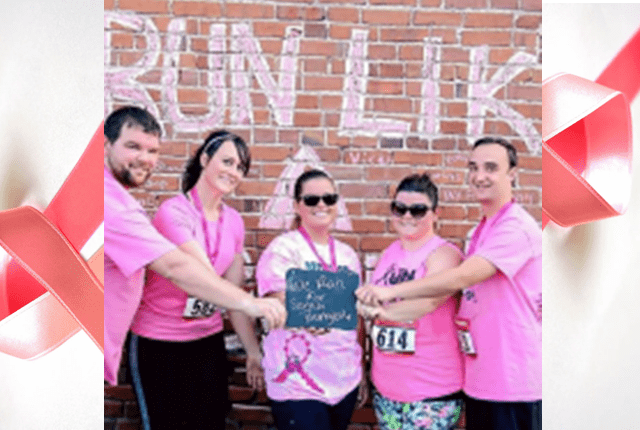 Sara Burkleybile smiled changed the world. Each day she is missed. Organizing this charity "Run Like A Girl" helps those of us she left behind. This beautiful woman was supported greatly by BCFO during her journey.
Happy October! I was finally able to get the virtual 5k event created. I usually use one platform but they no longer do online registrations, so I was in panic mode to find another platform to use. Luckily, I was able to get it all set up at,

click here.
This event will be completley VIRTUAL. I will be working on a day to deliver packets locally if you select the local pick up registration. If you choose to get yours mailed, they will be mailed in November.

Thank you to everyone who is looking forward to support BCFO and local Galena seniors.

Please check out the link above for more details and stay tuned to the Facebook event, for updates.
Sarah is missed every day and putting on this event helps remind me the beautiful woman she was and her passion to help others. BCFO was a huge supporter to her during her journey.

Courteys FB/Run Like a Girl in Memory of Sarah Burkybile & Fun Run

---

Registration Details:

EVENT:

 RUN LIKE A GIRL VIRTUAL 5K IN MEMORY OF SARAH BURKYBILE

(LOCAL PICKUP- TBD)

Registrants will all receive a custom medal and T-shirt for your participation in this years race

Price:

 $25.00 Race Fee + $2.45 SignUp Fee

Registration:

 Registration ends October 31, 2020 at 11:59pm CDT

| REGISTRATION STARTING | REGISTRATION ENDING | PRICE |
| --- | --- | --- |
| October 1, 2020, 12:31pm CDT | October 31, 2020, 11:59pm CDT | $25.00 Race Fee + $2.45 SignUp Fee  |

Sign Up

---

This registration will receive their packets by mail. Packet will include custom medal and T-shirt

Price:

 $35.00 Race Fee + $3.03 SignUp Fee

Registration:

 Registration ends October 31, 2020 at 11:59pm CDT

| REGISTRATION STARTING | REGISTRATION ENDING | PRICE |
| --- | --- | --- |
| October 1, 2020, 12:49pm CDT | October 31, 2020, 11:59pm CDT | $35.00 Race Fee + $3.03 SignUp Fee  |